Accessible Kitchen Cleanup Area
An accessible kitchen would not be complete without an area designed to simplify cleaning up the mess. This kitchen has a few accessibility features dedicated to making clean up as painless as possible. The beauty of this area centers on reaching everything I need without having to move my wheelchair. It doesn't get any better than this except when my wife cleans up for me!
Cleanup Area Sink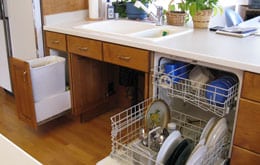 Similar to the cabinet under the cooktop the sink cabinet also has flipper doors which open and allow me to roll under the sink. This makes washing the dishes much easier. Our double-bowl sink also has one bowl that is quite large, making it possible to get all the cookware down in the sink for cleaning.
As mentioned earlier the pull-out faucet on the sink comes in handy when rinsing large pots and pans. It is also useful when cleaning the sink itself.
In the front of the sink cabinet are two drawers that tilt open and conveniently hold dish washing paraphernalia. The power switch for the garbage disposal is also accessible inside those drawer fronts.
Cleanup Area Dishwasher
The heart of the Cleanup Area is the dishwasher. The dishwasher is a standard model placed adjacent to the sink making it easy to load as dishes are rinsed.
Cleanup Area Trash Container
Just to the left of the sink is a slide-out trash container. It's easy to clean off the dishes when the trash container is so convenient to reach. Having the trash container slide out of the base cabinet was a pretty cool idea of mine a dozen years ago when we built the house. Now they are quite common and you can buy kits to make them easy to add.
Other Cleanup Area Ideas and/or Improvements
The Cleanup Area has worked very well over the years. I do have a few small tweaks I'll be incorporating in the new house.
Sink Improvements
The double-bowl sink has worked pretty well since the one bowl is quite large; we rarely ever use the small bowl. As a result we have decided to switch to a very large single-bowl sink. With this sink even items such as cookie sheets can be placed fully in the sink.
For aesthetic reasons we'll also be switching to a stainless steel sink. Frankly, I'm not sure if this is a positive or a negative from a maintenance perspective but time will tell.
Trash Container Improvements
In this age of recycling it's handy to have more than one trash container in the kitchen. In the new house we'll be using a slide-out unit that hold two containers rather than just one. They even make some with as many as four containers.