Accessible Garden
At the same time they were building our accessible home I was able to have them construct an accessible garden as well. This garden is comprised of approximately 180 square feet of raised bed area surrounded by sidewalks. It is also outfitted with a drip irrigation system to simplify maintenance.
Raised Beds For Accessible Gardening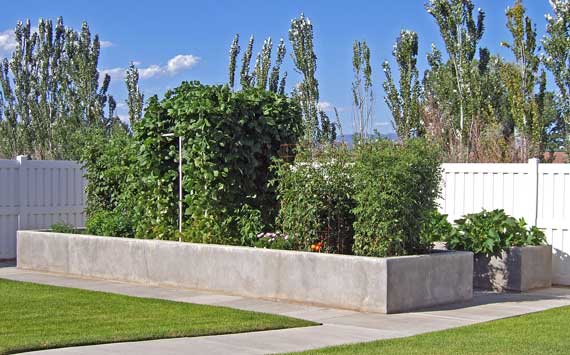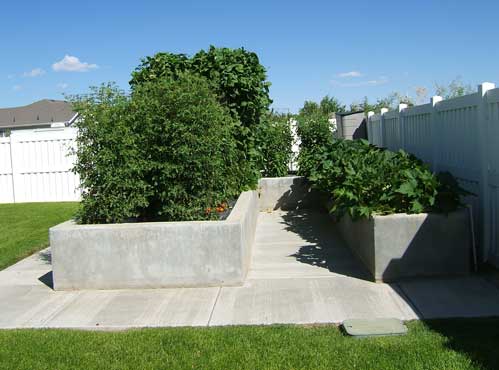 The raised beds have walls that are 6??? thick and two feet tall. The beds are in a modified "U" shape and constructed of concrete similar to a house foundation. You can find additional information in my blog post on
raised-bed gardening
.
The height and shape of the raised beds affords me excellent access to nearly all of the plants. As you might suspect my wife loves the raised beds as well since nearly all kneeing, crouching, and bending are eliminated. Raised beds have numerous benefits from a gardening perspective as well. I would enthusiastically recommend raised beds to any serious gardener whether you need an accessible garden or not.
Accessible Garden Drip Irrigation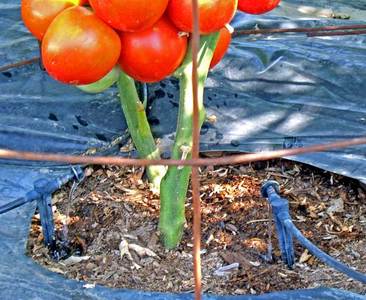 When I installed the lawn sprinkler system at our accessible home I ran a zone to the accessible garden to be used for drip irrigation. Drip irrigation has many advantages from a gardening perspective. But the greatest benefit in my opinion is that the task of watering is handled totally automatically. Once I install the system and set up the timer I don't ever have to think of watering again. You can find much more information in my blog post on
drip irrigation
.
It's great that drip irrigation eliminates the need for me to wrestle with hoses or watering cans. Similar to raised beds, drip irrigation is a capability that would greatly benefit any gardener, not just those needing an accessible garden.
Accessible Garden Weed Control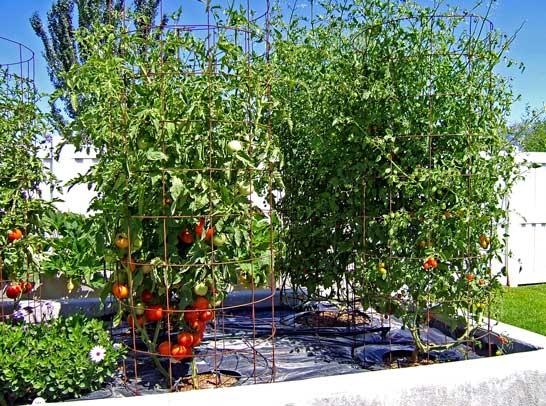 With the raised bed garden I can reach nearly all of the bed and keep it weed free. But like most gardeners, I really don't enjoy weeding. So I have taken a couple steps which have almost eliminated to need to weed.
Once I have planted all of the vegetables, I put down a sheet of black plastic and cut holes out of it for the plants. This way all of the soil in the garden is covered with plastic except for around the plants. This sheeting has numerous benefits: It holds the heat in the soil and maintains a more constant temperature. More importantly, it prevents weeds from growing in the open areas, significantly reducing garden maintenance.


Once I have put down the plastic sheeting I add organic mulch around the base of each plant. I normally use a bark product called "Soil Pep Soil Conditioner", which has already been decomposed and does not use nitrogen.Similar to the plastic sheeting, the organic mulch also keeps the soil temperature warmer and more consistent and suppresses weeds. It has the added advantages of helping to maintain constant moisture content around the root zone and adds organic matter to the soil. The picture above shows both the plastic sheeting and the mulch.
Accessible Garden Tomato Cages
The first few years I staked my tomato plants, but had several problems with that technique. It was difficult for me to tie the plants to the stakes from my wheelchair so I required constant assistance as the plants grew. Also, when the plants got taller they would occasionally blow over in heavy wind.
I switched to the larger cone-shaped wire cages that are sold at most home centers. These were an improvement to my accessible garden since no tying was required. However, they were even less stable than the stakes and would blow over regularly once the plants got taller.
Finally, a couple of years ago I "bit the bullet" and decided to make my own heavy duty tomato cages. They have worked great and if you enjoy growing tomatoes I would encourage you to invest the time and effort to build them. You can see the homemade cages in the above photo. Check out my blog to find out
how to make tomato cages
.